Here you can Download Uniblue Driver Scanner 2015 Setup, free for PC. Uniblue Driver scanner 2015 is available in single click download option.
Uniblue Driver Scanner 2015 Product Review:
Computer system always needed a specific driver for an individual hardware to perform its function accordingly. Uniblue driver scanner is an application which scans and detects, all outdated, missing and corrupted drivers and update them instantly. As a matter of fact OS default drivers won't work if device is an advanced one and Operating System is not updated so. In such a case or many other, Uniblue driver scanner updates all old drivers to stop them from malfunction and provide them fresh "hardware to computer" connection. Among huge number of applications providing drivers update facility, Uniblue has its reputation in terms of secure  and comprehensive driver update.
Downloading drivers manually and guide them to work properly with a specified hardware is a bit risky process as driver version is also another aspect which cannot be neglected. Uniblue driver scanner scans and update drivers from huge database with respect to" How much driver hungry your hardware is". Next a comprehensive list of outdated drivers is provided with an option to update them in a single click.
About simplicity of user interface, Uniblue is user friendly and easy in operation. Scanner engine is compatible with operating system and adapts the environment for removing hardware bugs and other device errors. Reduction in driver conflicts is another important features of this application utility.
Download links may also be accessed to update drivers just within minute, along with version and driver age. Driver updating process is always fast and safe.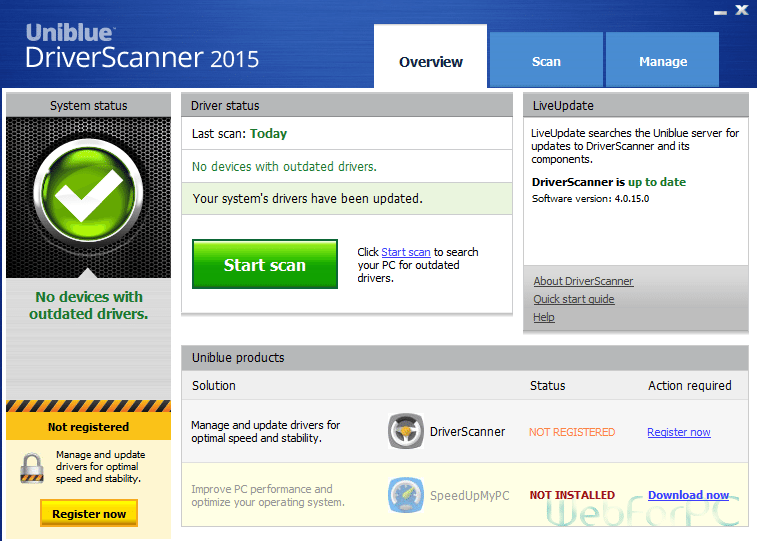 Uniblue Driver Scanner 2015 has some amazing features to update your hardware with latest drivers. Some other features are provided below.
Uniblue Driver Scanner 2015 Salient Features:
Simple to install and use.
Quick detection for missing or outdated drivers.
Comprehensive list of drivers with an update link.
Compatible with all operating systems.
Improved functionality for most recent driver detection.
Drivers list by version number.
Drivers for all hardware, are updated.
Multiple Language support.
Even Much More…
Uniblue Driver Scanner 2015 Important Details:
Product Name: UniBlue Driver Scanner 2015.
Developer: UniBlue.
Application Category: Driver Scanners.
License: Free Trial.
Setup Size: 7.321 MB.
Compatibility: Windows 7, Windows 8.
Setup Name: driverscanner.exe
Our Suggestion About Uniblue Driver Scanner 2015: 
If you want to work conveniently with your computer's hardware and want it to perform quickly and according to its default efficiency, consider updating it with latest driver available. Uniblue driver scanner is not only intended to update drivers, but to sort out and fix corrupt and missing drivers as well.
How to download Uniblue Driver Scanner 2015:
Visiting the link below would let you download, Uniblue drive scanner 2015 offline setup just with a single click.