Realtek HD Audio Drivers Free Download latest version for Windows 7, Windows 8 and Windows 10. Install Realtek missing drives for both 32 Bit and 64 Bit Systems.
Realtek HD Audio Drivers: Product Review:
RealtekHigh Definition (HD) Audio Codec Drivers for Windows are compatible with x86 and x64 system architect and your way in 2016 to enjoy high quality sound. Realtek Audio Driver pack is well supported with Windows 10 and is in compatibility with Intel motherboards for their default audio device. Application is light is weight and easy in installation, all you need to do is download the offline installer package and give it a go with setup wizard, rest would be automatically managed by impressive Realtek technology. if you are still concerned with updating all outdated drivers, then choose it DriverPack Solution 15.9's way.
With plenty of new customization options, Addition of some new ALC Codes and support for modern operating systems  Realtek HD Audio Drivers communicates with operating system quite impressively, hence enabling earphones or speakers to play sound in good quality. Sound definitions can also be adjusted to desired level via "Realtek HD Audio Manager". Different sounds effects may also be added and device control may also be setup as per user's desire. See also DriverPack Solution 14.
An important feature of Realtek HD Audio Driver 2.79 is, a comprehensive control over default sound format with 16 Bits and 24 Bits selection options. It depends upon the taste of user to opt among quality play as CD, DVD or studio quality. Device advance selection panel (can be accessed in any language opted while installing) is also available to adjust the digital out of main volume. In short a clear and high quality sound is possible with Realtek High Definition Audio driver's pack just in few simple steps. DriverPack Solution 15 is also an impressive way to updated all missing sound drivers.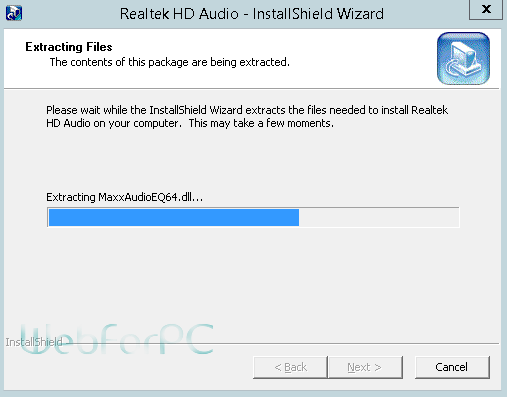 Realtek HD Audio Driver is loaded with some new and other, improved features. Some most noticeable particulars can also be reached in list provided below.
Realtek HD Audio Drivers: Salient Features:
Simple install procedure.
Experience HD audio on latest windows based operating systems.
Works perfectly on virtual box or remote server.
Multiple options to customize audio settings.
Control manger is accessible to adjust sound settings.
Serves as a default audio device.
Intel motherboards are well supported.
Replacement for your sound card's driver.
Lighter in weight.
Support for both 32 and 64 bit processor system.
Something more….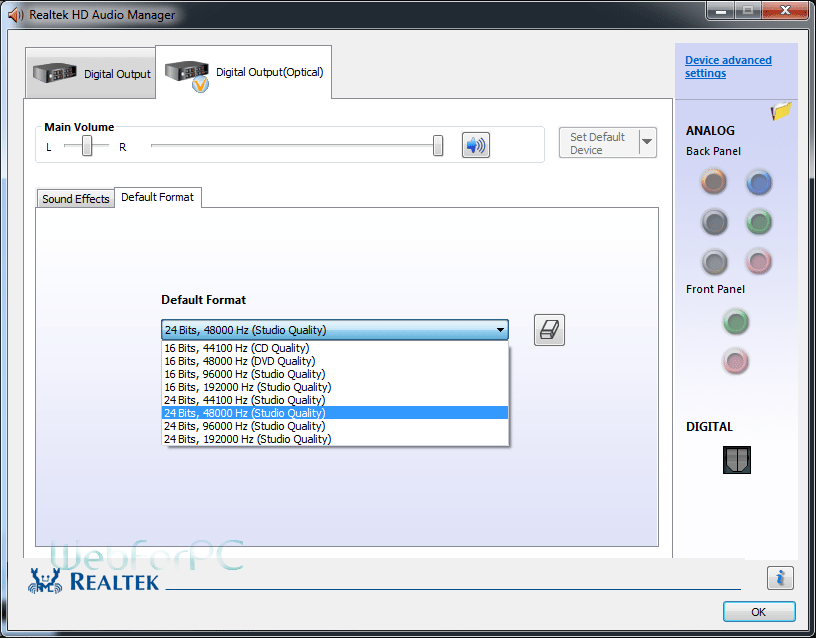 Realtek HD Audio Drivers Important Product Details:
Product Full Name: Realtek High Definition (HD) Audio Drivers.
Genre: Drivers.
Setup Name: Realtek_32bit_drivers.exe, Realtek_64bit_drivers.exe.
Compatibility: 32 bit and 64 bit processor.
Version info: v2.79.
File Size: 100 and 125 MB respectively.
Updated Here on: 10, December 2015.
System Requirements:
License: Trail (Free)
Developers: Realtek Official Website.
Aur Suggestion About Realtek HD Audio Drivers:
If your operating system is having trouble in sorting out audio drivers, resulting no sound device playback, you probably need Realtek Audio Drivers to update sound device on motherboard to play high quality audio from speaker of headphones just in a simple way.
How to Download Realtek HD Audio Drivers:
Below in download buttons provided, two different applications files are provided, Choose one meeting your system architecture. Realtek Audio Drivers are well compatible with 32 bit as well as with 64 bit system.
                                                                 32 Bit & 64 Bit